Poultry in Motion…
After some research, the first Pakistani game, which caught my attention, was the mobile first-person-shooter "Pakistan Army Retribution". In this game you would play a Pakistani soldier defeating Taliban terrorists in a school. The game should remind and make aware of the 2014 Peshawar school massacre (141 people, including 132, children were killed) and was developed following up the one-year anniversary. However, designing a game based on such a tragedy is a very sensitive topic and probably not the perfect way to deal with such a doom event. Due to lots of criticism on its poor taste and disrespectfulness for families and victims it was removed from Google Play Store in January (Article).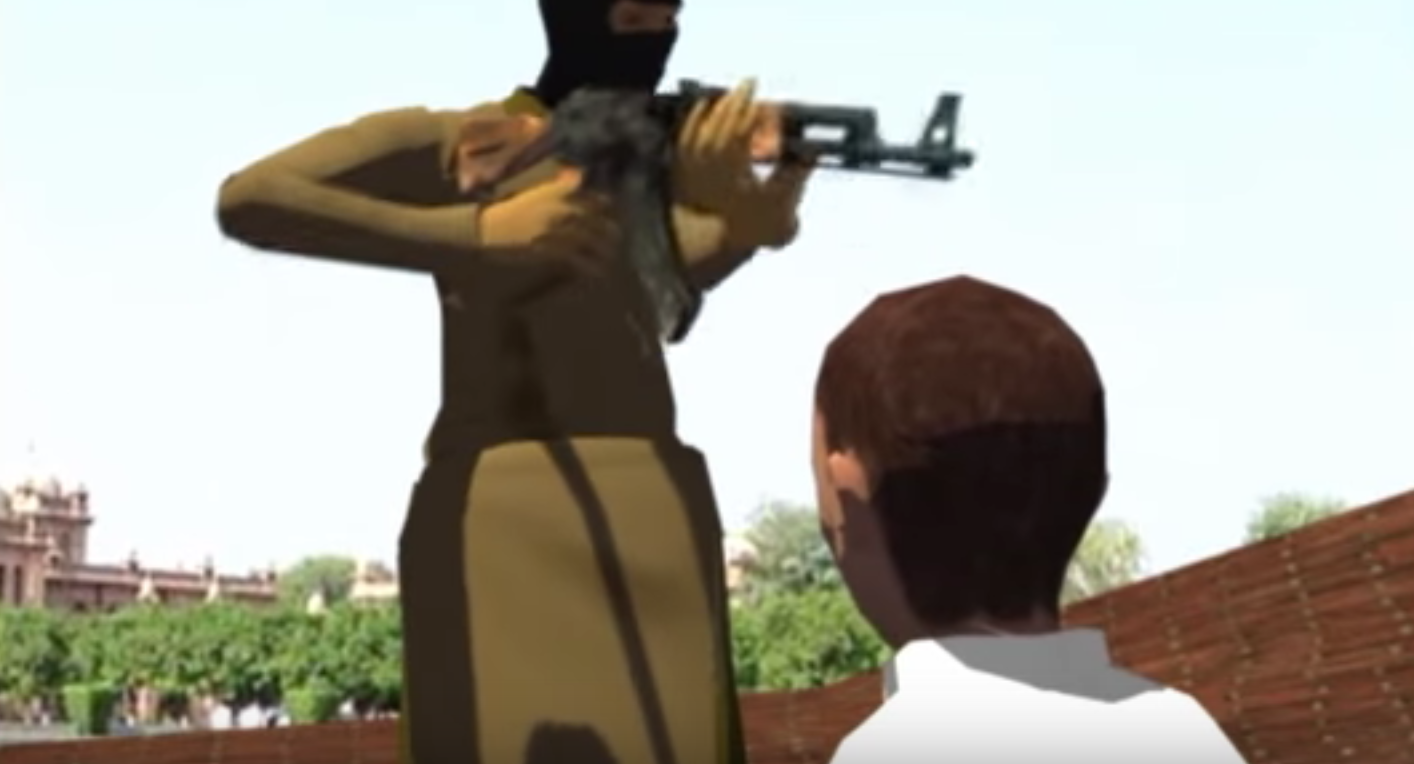 The local game developer community is still extremely upset about this game and strongly criticise it as they find it is a very bad representation for true Pakistani games.
"This game has been designed by some non-professionals and is based on Terrorist attack on Peshawar's Army Public School on 16 December 2014, which is a very sensitive issue for Pakistani audience. Thus the game has faced a lot of criticism from locals and eventually taken down. The game has poor graphics, game design and technical errors."
So instead of playing this dark game I got to play an extremely colourful and humorous mobile game. Sadia Bashir, a representative of the Pakistan Game Developers association and the local developer community helped me to find another and more representative game for the growing developer community. They chose "Run Sheeda Run" for me, a colourful mobile jump'n'run game, which reminds of Pakistan's tradition and street culture. The game takes place in Lahore, Pakistan. The game starts by introducing the player in form of a comic to the two friends: the Pakistani kid Sheeda and his beloved smart chicken. But suddenly, the chicken gets kidnapped by this stereotypical evil super-villain, the BBQ chef. (a "qasai", a member of the community with the occupation of butchering). The game starts and the player has to help Sheeda to save his best friend from becoming part of Chicken Tikka on a BBQ fest. The game is designed as an endless runner; the main gameplay reminds of the Danish game Subway Surfers. You are running through the streets of Lahore, trying to avoid obstacles. It takes place in a city theme (with a mix of fancy 3d objects and pretty flat dwellers), with street markets, food carts, grumpy businessmen, and busy streets as obstacles. You can run, duck, jump, and slide.. until you die (so actually the cook finally steals your chicken). My favourite mechanics, however, is definitely the one, where you are able to use your chicken as a flying apparatus. The game is extremely polished with fancy graphics and very nice animations. However, it is kind of sad to know, that in the end your friend always will be cooked.
The game is based on this nice webcomic "Run Sheeda Run". I am definitely waiting for an English translation to read the comics. While the website promotes the game with "Made in Pakistan, Made by Pakistan, Made for Pakistan!" I would highly recommend changing this to "Made in Pakistan, Made by Pakistan, Made for the World!".